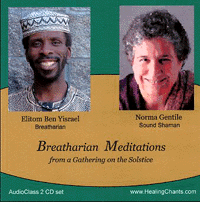 Want to hear samples? Click Here


---
Download digitally now
- CDBaby (good on all players and computers)
- iTunes

---


Duration: 2 hours, 10 minutes.


---
To order by phone:
1-800-289-6923
(CD Baby)


BREATHARIAN MEDITATIONS
A Breatharian nourishes their body from energy, breath, and sunlight, instead of food and water. This same wiring is becoming available to all of us. Listen, learn, and explore this ability with long-time Breatharian Elitom Ben Yisrael and sound shaman Norma Gentile. Together they offered a workshop to help others "turn on" their own Breatharian wiring. This is a recording of that workshop. It includes spoken meditations, Elitom's own story, and healing chants from Norma to guide your own discovery.

Information on this recording includes:
How a Breatharian Grounds
Elitom's Story of Becoming a Breatharian
How the 8th chakra works for Breatharians
Meditation to find 8th chakra and re-tune it
Meditation to align Heart and Chakras in Pranic Tube
Meditation on Liquid Light
Elitom speaks on Conscious Nourishment
Why and How to Nourish Yourself from Energy
Transition to Energy from Food
Physical and Conscious Ascension
Sound Meditation toward Breatharianism

Elitom Ben Yisrael has been a Breatharian since 2001. As of this writing, November 2013, he is still a Breatharian, living in Ohio, nourishing himself daily in nature and along the shores of Lake Erie. He sat for a series of video interviews that can be found on youtube. This workshop recording is the only one he has made.
Norma Gentile is a channel for Archangel Michael, Mary and the Hathors, and has recorded four albums of healing songs and forty hour-long meditations for energy awareness and healing. She continues to explore emerging energy systems through her musical CDs (Songs of Spirit is the newest) and create healing chant concerts, workshops and offer Private Healing Sessions. Please visit her website at www.HealingChants.com for upcoming events and free podcasts and newsletters