Photos of Past Concert Setup / Design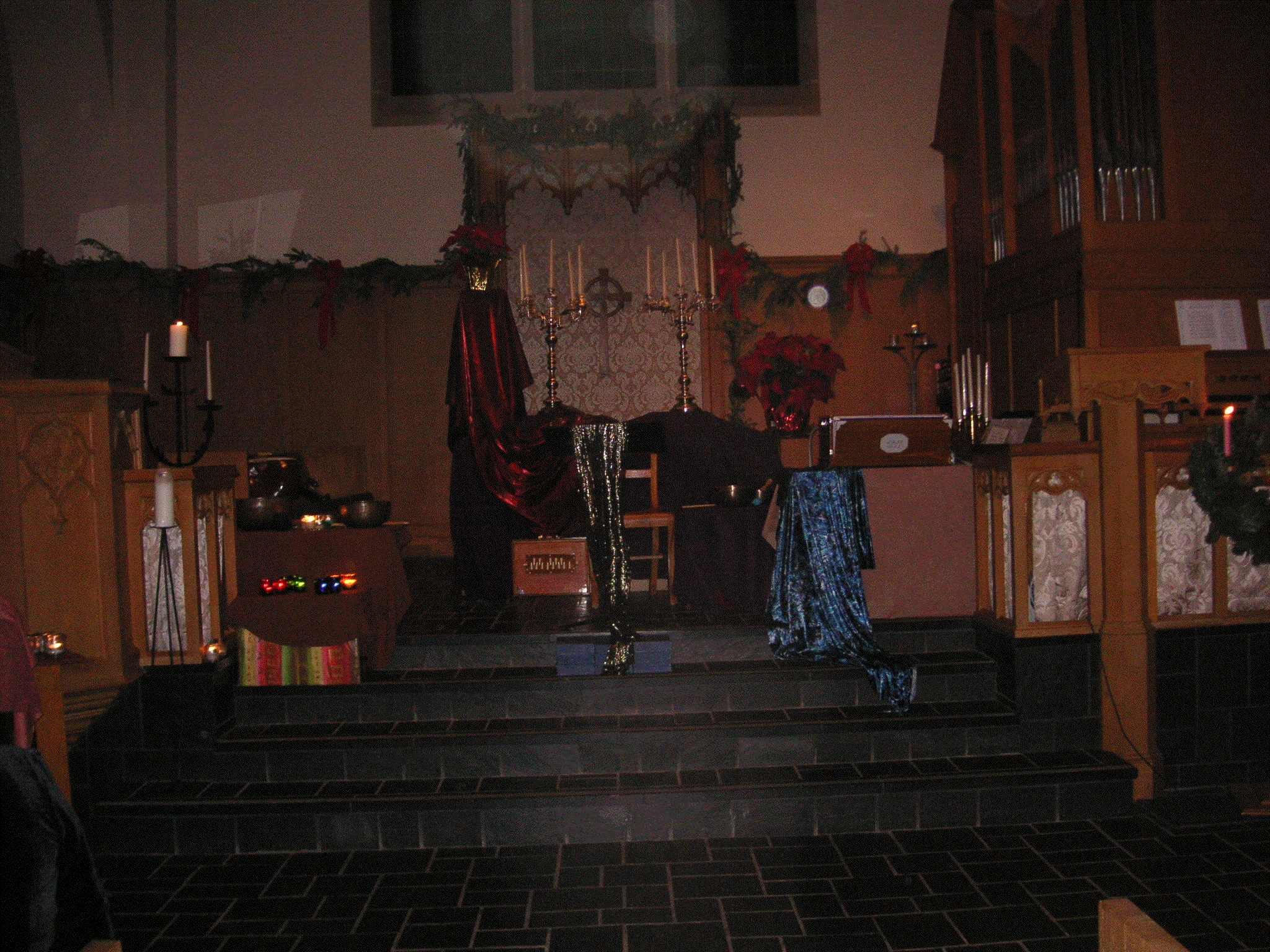 Notice in the photo above the candleabras placed on the altar. The altar table was draped with fabric and covered with plastic wrap to protect it from wax drip. The candleabras were placed on top of piles of hymnals or sturdy boxes or small tables . Other candles are on small tables to the side.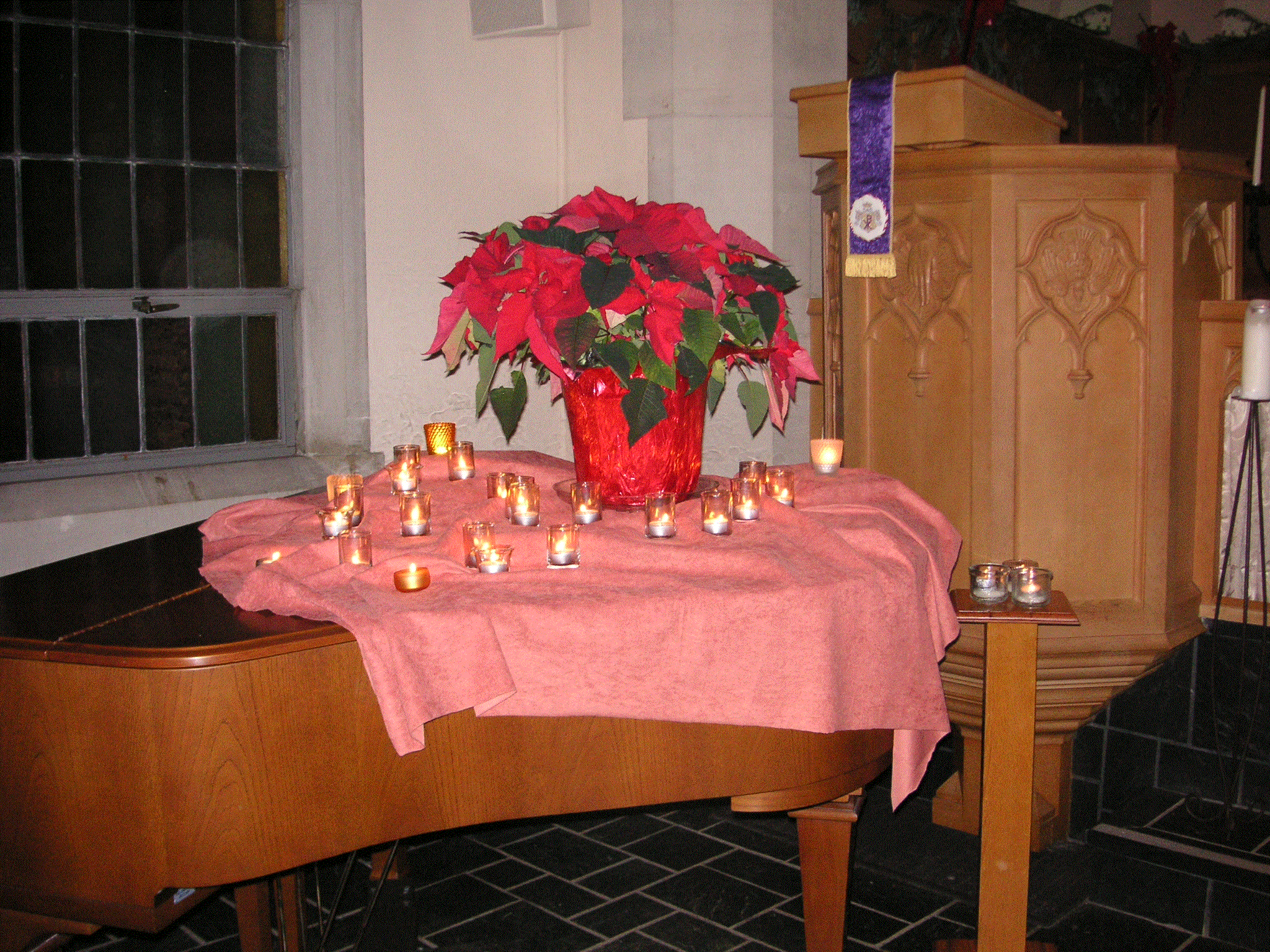 To the right side of the above photo was a beautiful grand piano on the lower level. With the permission of the church, it was covered with a layer of hymnals, cardboard on top of the hymnals, plastic wrap and finally scarves on the very top with sturdy votives. The area was open to the public, so volunteers monitored to make sure noone approached too closely.


DOWNLOAD THE BASIC DIAGRAM (shown below) AND INSTRUCTIONS HERE

ON TABLE or ALTAR

2 sets of Candleabras, 7 feet high, 5 or more tapers each side. Shorter candelabras can be put on two small tables sitting on top of this altar or table to raise the candles high in the air.

XXXXX--- ----- No Candles Behind Me--------- XXXXX

6-8 feet high
candleabras


6-8 feet high
candleabras


A chair, no arms,
not squeaky,

and a music stand
(Manhasset type)

| | | |
| --- | --- | --- |
| | | Optional small table(s) down in front and/ or to either side of altar. Please be sure to keep smoke away from me. |



AUDIENCE -----------------------------------------------------------------------AUDIENCE


<![if !supportEmptyParas]>Ê<![endif]>


NOTES:

Candelabras 6-8 feet high on either side behind me are ideal. They can be on a 6 or 8 foot long table if tall candelabras can't be found. It is best to use tapers, (tall thin candlesticks) as they throw the most light. Use only tapers. Pilar and thicker candles don't throw enough light.


For Optional Small Tables, and general decor: Pillar candles, which are thick, are quite stable, and votives are safe, have pretty flames. Window sills,, small tables, mix with scarves, plants, and such to make the affect you desire..

---

MORE CONCERT PHOTOS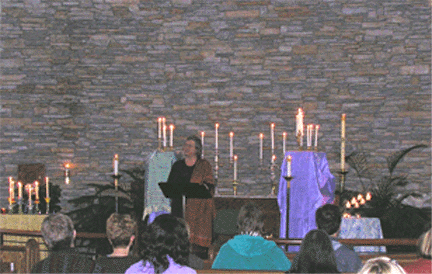 This is from a sunset concert - you can see the stone wall rising behind me, and the candles ready to illuminate the plants (and my music) as the sun sets. To the far left of the photo is a large table, with a particularly lovely feng shui based design.

Each sanctuary is unique. Bringing the best forward of the acoustical, architectural, and energetic elements sets the sacred space for the concert.