THE FORGOTTEN PATH REMEMBERED

A Journey to Hildegard's Heartland

June 24-26, Friday evening - Sunday noon
Hildegard's original abbey, Disibodenberg

Staudernheim, near Bingen, Germany
sponsored by
The Kaiserslautern Unitarian Universalist Fellowship

June 14 - Spaces still remain available.
49 (0) 6386-993966) or nancyingermany@hotmail.com
Lying in the lush green hills just south of Bingen, Germany, the ruins of Disibodenberg, Hildegard's original abbey, remain nearly forgotten to the outside world. Standing upon now privately held land, the Baron and Baroness Meijer have agreed to open their private estate and the lands holding the abbey ruins to us for a weekend. We will be meeting in their estate house itself, also home to a winery and stable, much as was the abbey in Hildegard's day.
FRIDAY evening, 7pm
Introduction to Hildegard's life and music
9pm- ? Social time for visiting
SATURDAY
Breakfast at the Gausthaus
Morning Workshop: Opening to Sacredness:
We will be using movement, breath and chant to open body, mind and soul. This morning includes learning a chant by Hildegard to sing later at the ruins. We will explore together how sound effects our ability to open to spirit and to the healing process using 'voices-on' examples. Discussions of Hildegard's view of singing, and her use of alternative medicine such as herbs and gems for healing.
Lunch together - then we will go to Disibodenberg on this path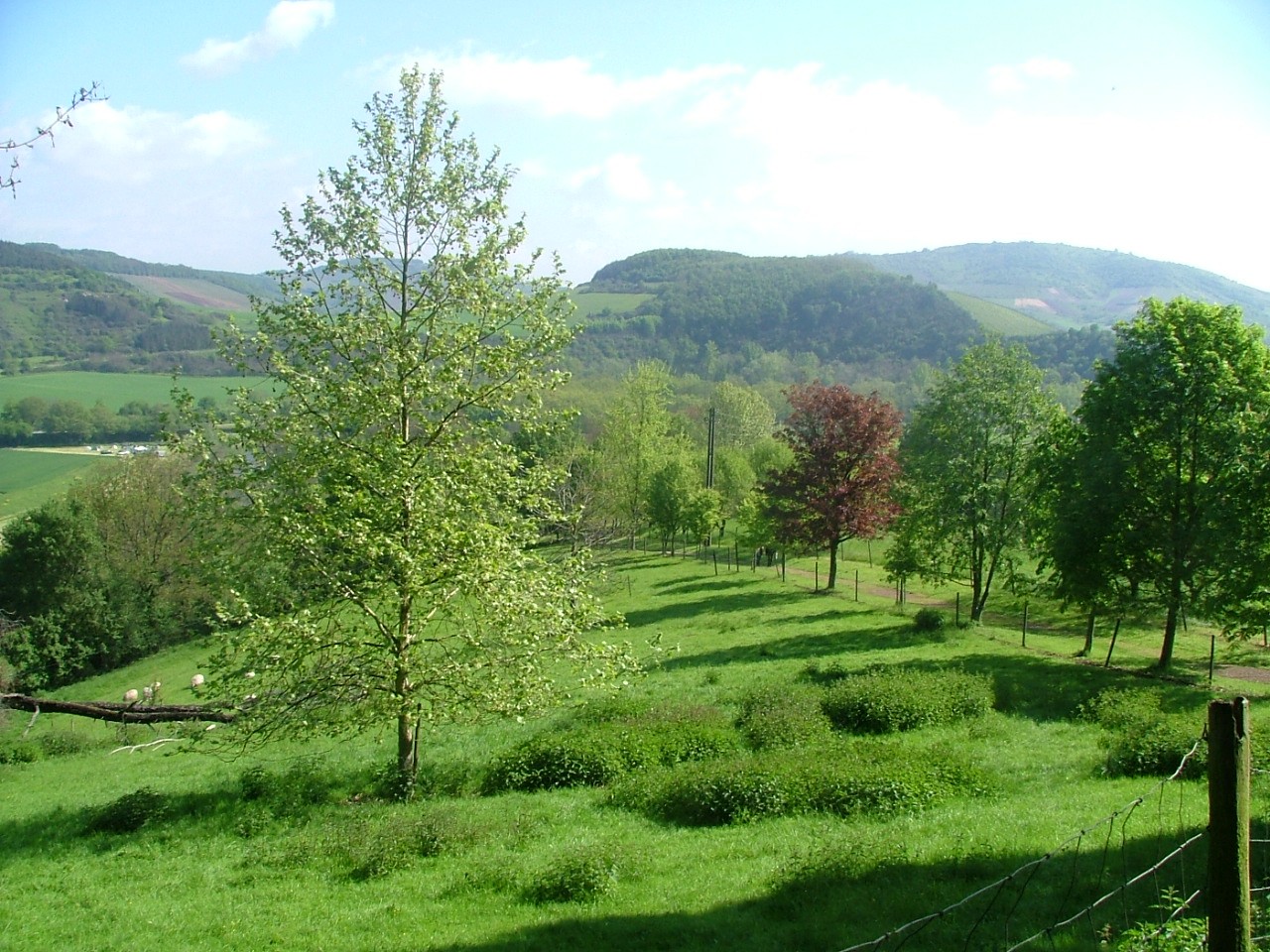 Afternoon at the Ruins
Sacred Sound - Sacred Healing

Exploring the ruins, sitting together as a group we will no doubt sense the sacred presences of over a thousand years of worship from the very stones themselves. Hildegard equated each stone with a person serving God, building the new Jerusalem. We will chant together, and you are invited to attend quietly to the stories each stone might tell.
Labyrinth Walk
Viriditas - the Sacred Nature of Life, the Universe, and Everything
What was it that Hildegard was referring to as 'life-greening force' or viriditas? Could it be the animating force that mystics see as a glow around people and all living beings? Could it be the newly discovered energy that cosmologists say surrounds and interpenetrates every star and planet in the universe? A hands-on and voices-on demonstration followed by quiet contemplation.
7pm - A sumptuous dinner
Evening: Candlelight and Starlight Solstice Ceremony
---

SUNDAY

Breakfast at the Gausthaus

Morning Gathering: A Mandala of Prayer and Healing

One of Hildegard's chants invoking the feminine face of God uses the same melody as the ancient Buddhist chant "Om Tara", which also invokes the feminine. Never having heard the Om Tara chant, Hildegard nonetheless uses these same tones in a similar manner as Buddhists have for thousands of years to call to the Goddess.

We will sing both, along with other songs, creating a circle of strength and healing prayer together. If weather permits we will return to the ruins for the final part of this solstice ceremony.

11:30am Conclusion - Say Goodbye, but not for long!

There are various options for Sunday afternoon. Please ask Nancy for a list of local attractions (a cruise on the Rhine, a local winery tour, siteseeing, etc).
---
CONTACT:
Nancy Scott is organizing the event and can be reached at:
49 (0) 6386-993966) or nancyingermany@hotmail.com
Posted June 14th: Please Note: Nancy's phone had gremlin problems this past week, they seem to have moved on now. Please call again if you wish to register.

TRAVEL
Frankfurt an Main (or just Frankfurt to those of us in the USA) has the main International Airport. You can catch a train from there to the town of Bingen (about an hour away). From Bingen you are less than 30 mins from the Gausthaus in. Staudernheim, the village just down the hill from the ruins.

If you have a car and are willing to help drive someone from out of the area please let Nancy know.

COST:
Euro 200, not including dinner Saturday night, includes the following:
- Friday night mixer at gasthaus, opening program
- Saturday workshop, breakfast and lunch, summer solstice celebration
- Sunday breakfast, workshop, and closing
- Unrestricted entrance into abbey grounds Friday night, Saturday, and Sunday
- Two nights accommodation in Gasthaus

LODGING: Is provided by a Gausthaus with a cheery and sunny meeting room. We will have breakfast together each morning, and Saturday lunch here as well. Accomodations are doubles.

REGISTRATION: Early registration is appreciated. The group size is limited. Please let Nancy know of your interest by June 1st.

For more photos and information on Disibodenberg, see http://www.disibodenberg.de/Disibod.htm

---
Private Healing Sessions near Ramstein,Germany, on June 28.
I desire to draw out of each person their true identity. My gift is to help you to release what no longer serves your soul or body. I do this by speaking directly to these energies while asking your healing angels to assist us. One hour, recorded for you.

I will gladly offer healing sessions in Germany. Please contact me directly: norma@healingchants.com
_________________________________________________